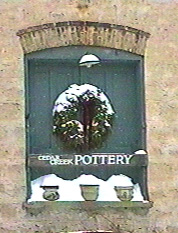 The holidays are upon us!  All the staff here at Cedar Creek Pottery have been working feverishly to stock some amazing pottery, wood, glass, metal, jewelry and other fine craft for your holiday shopping.  With over 30 Wisconsin artists, 30 more from around the country and 6 from Canada, it is a big job!  This holiday season has also brought us some wonderful moments shared with our customers, great music and lots of sparkly lights.
On Friday, December 18 from 5p-9p the Cedar Creek Settlement will be celebrating "A Taste of Christmas", a night for grown-ups.  With treats for good big girls and boys!  Enjoy our complimentary sweets table, wine tasting, olive oil & balsamic tasting, live music on the landing, a strolling quartet, and cooking demos.
Soon we will be gearing up to keep our doors open LATER so you can get those last few names crossed off your list!  Of course, you can shop online anytime!
Holiday Hours:
Friday, December 18 — 10am-9pm
Saturday, December 19 — 10am-6pm
Sunday, December 20 — 11am-5pm
Monday, December 21  — 10am-8pm
Tuesday, December 22 — 10am-8pm
Wednesday, December 23 — 10am-8pm
Thursday, December 24 — 10am-3pm
Friday, December 25 — CLOSED
Saturday, December 26 — 10am-6pm
Sunday, December 27 — 11am-5pm
Monday, December 28-Wednesday, December 30 — 10am-5pm
Thursday, December 31 — 10am-3pm
Friday, January 1 — CLOSED
Note: We will go to our winter hours after Christmas, 10am-5pm M-Sa, 11am-5pm Su