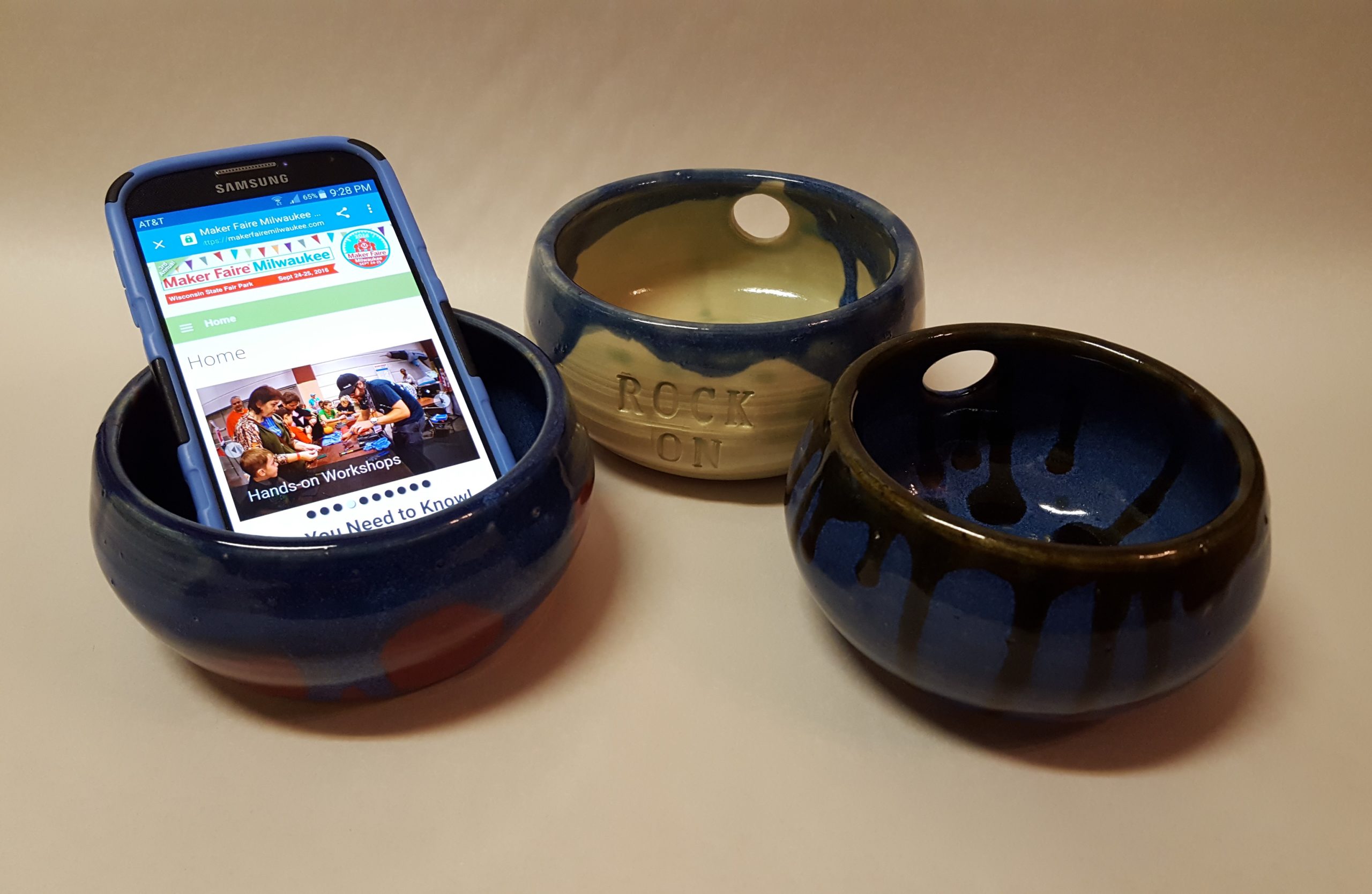 Visiting Milwaukee September 24th & 25th?  You won't want to miss one of Milwaukee's newest fall traditions, Maker Faire!  In their 3rd year here in the Milwaukee area, this amazing show can be described as nothing less than a dream come true for makers, geeks, robot lovers, engineers, and creators of all kinds.  Plus, for the first time ever, it will also include your favorite pottery source, Cedar Creek Pottery!
We will, of course, be there with some of our very favorite pottery.  Plus, we will be introducing potter/owner Andee Warren's newest project…
Pots for Bots
Techies meet Muddites; even bots need pots! We bring a tradition of thousands of years into the world of technology with handmade, pottery solutions for a modern, high tech world. Featuring our speaker pot along with other wonderful pottery for your home and office, Cedar Creek Pottery welcomes makers, techies, engineers, artists, robots, and of course, all lovers of pottery!
When is this amazing event?
Maker Faire is open 9am-6pm Saturday, September 24th and 10am-5pm Sunday, September 25th.
Where is Maker Faire?
Located in the Wisconsin Expo Center Halls A & B within the Wisconsin State Fair Park.
Maker Faire is a

Free Event

!
Will I get to touch wet clay?
As a matter of fact, you will!  Since Maker Faire is co-hosted by the most touchable museum in Milwaukee, Betty Brinn Children's Museum, attendees of all ages are encouraged to ask questions, be curious and learn all about making things!  So, for us, of course, that means you can get dirty!  Stop by our booth and you'll get a chance to explore how we create texture in clay.  But don't worry, we won't tell your mom… unless she wants to join you in the mud!
Where can I learn more about Maker Faire?
Give us a call , we're so thrilled to be a part of this event, we'll probably talk your ear off about it and regale you with stories of our adventures in past years… or you could just go to their website: https://makerfairemilwaukee.com/