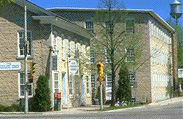 Located just 25 minutes north of Milwaukee, Cedarburg is a charming town whose main street is listed in the National register of Historic places.  Dozens of shops, galleries, restaurants and coffee houses line its main thoroughfare, Washington Avenue.  Cedarburg also boasts two charming inns, the Stagecoach Inn and the Washington House Inn.  Cedarburg is one of the Midwest's finest small-town shopping destinations.  In 2011, Forbes Magazine named Cedarburg one of America's 11 prettiest towns, and it is frequently featured in such publications as Midwest Living.
For more information on Cedarburg, visit Cedarburg.org.
Find out more about other folks we know here.